A Store Listing is for apps which are to be submitted as a standalone within the Google Play and Apple App stores. The submission process can take a few weeks. It's best to allow four weeks to create your store account with Apple and an additional two weeks to complete the submission process prior to your App launch. App Store approval cannot be guaranteed by Entegy
Store Listing can be found under Elements within the Core.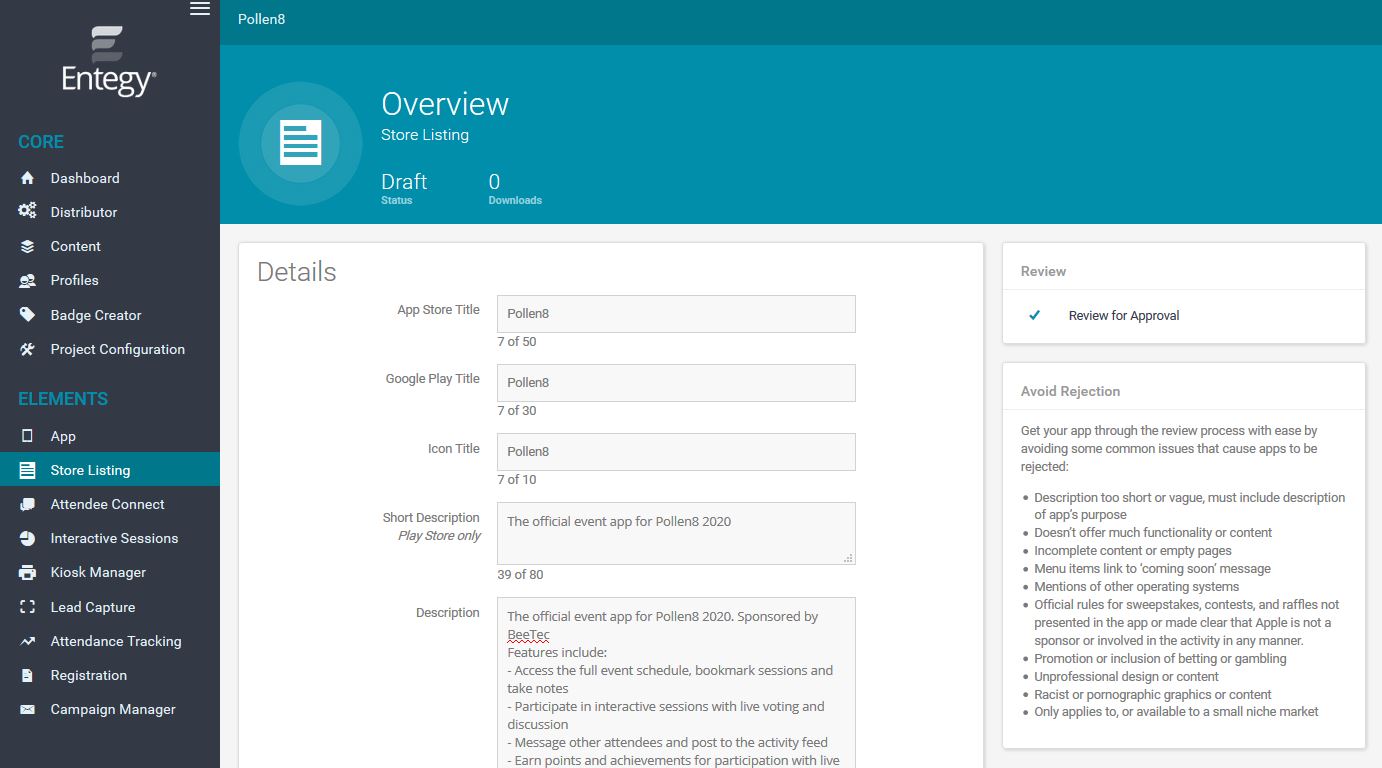 Store Listing Details

The first page of store listing includes fields to enter the text for both the ios and android stores, and upload the images which are to be used in the screenshot previews. If you require specific or additional screenshots, you can add a request in the screenshot field.
App Store Title


for IOS store - 50 characters or less


example "Pollen8"
Google Play Title
for android store -30 characters or less
example "Pollen8"
Icon Title
This appears under the app icon when installed on the users device
example "Pollen8"
Short Description
For android store only. 80 characters or less
example of a short description
"The official event app for Pollen8 2020"
Description
long description for both stores. 4000 character limit
example of a long description:
"The official event app for Pollen8 2020. Sponsored by BeeTec
Features include:
- Access the full event schedule, bookmark sessions and take notes
- Participate in interactive sessions with live voting and discussion
- Message other attendees and post to the activity feed
- Earn points and achievements for participation with live leaderboard
- View event map and exhibitor locations
Design Assets and previews

Design assets are added below the details in images. See Screenshot below, and following previews of how the assets will look in the store.

Android Icon: 1024x1024 with a transparent background
iOS icon: 1024 x 1024 opaque background
Android Feature: 1024 x 500 opaque background
Phone Splash: 2208 x 1024 opaque background
smaller screens will crop splash image from top and bottom
Tablet Splash: 2048 x 1536 opaque background
smaller screens will crop splash image from top and bottom
Assets shown in the Core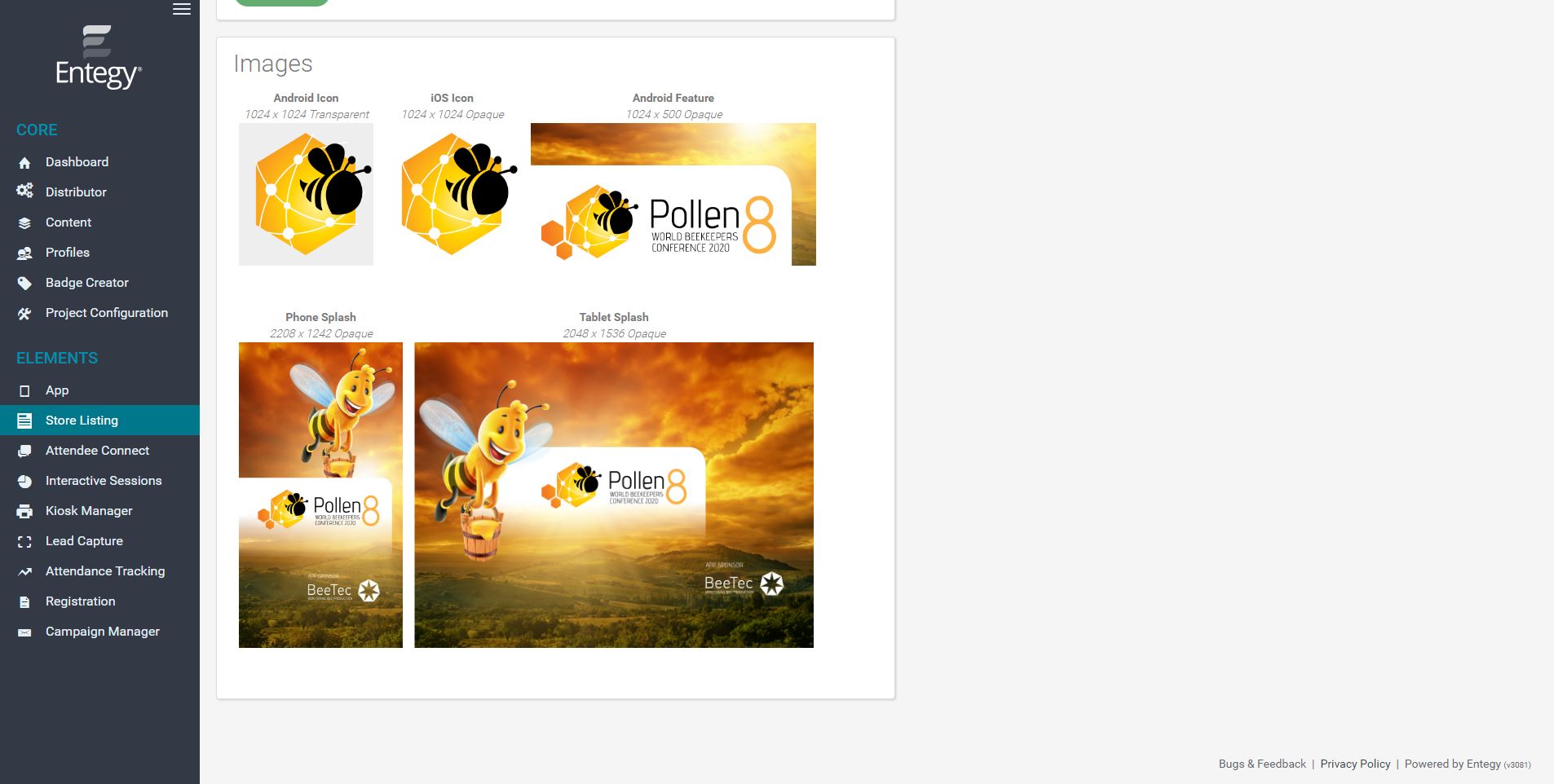 IOS preview example.
Left Phone Screen: icon and icon title
Right Phone Screen: icon and app store title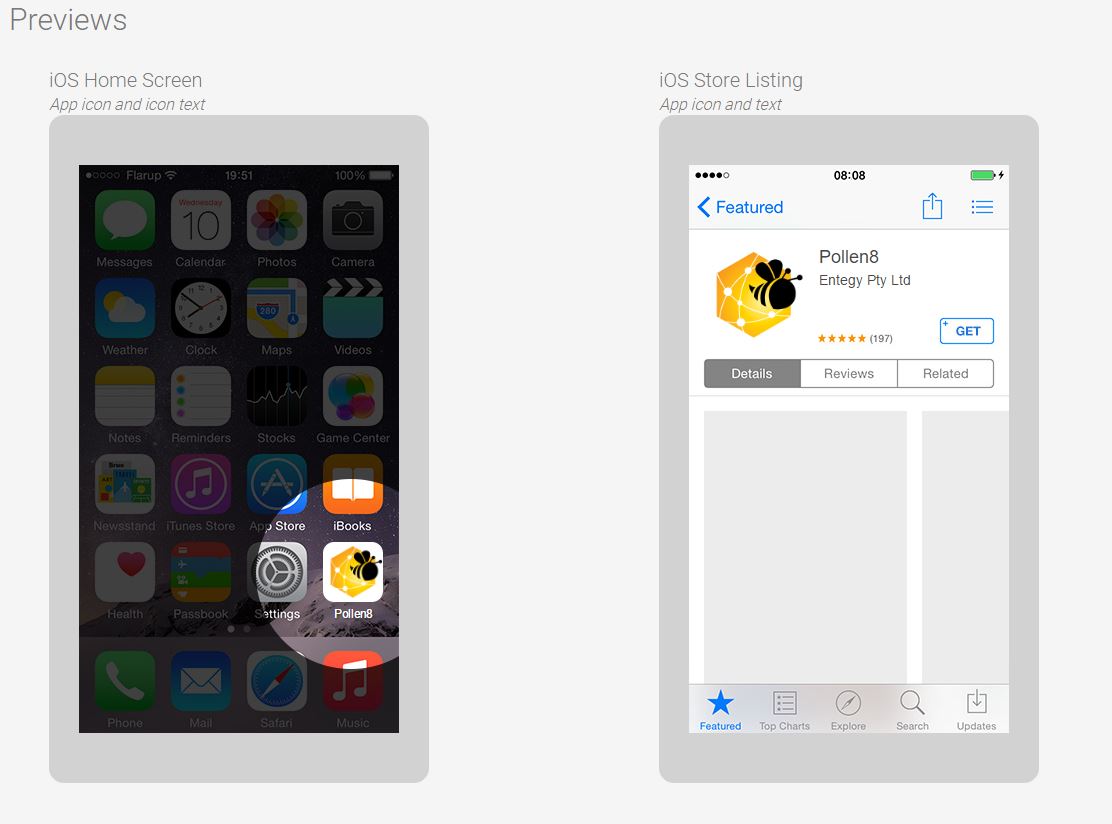 Android preview example
Left phone screen: icon and icon title
Right phone screen: feature header, icon, google play title and short description

Phone splash screen preview examples
smaller screens will crop splash image from top and bottom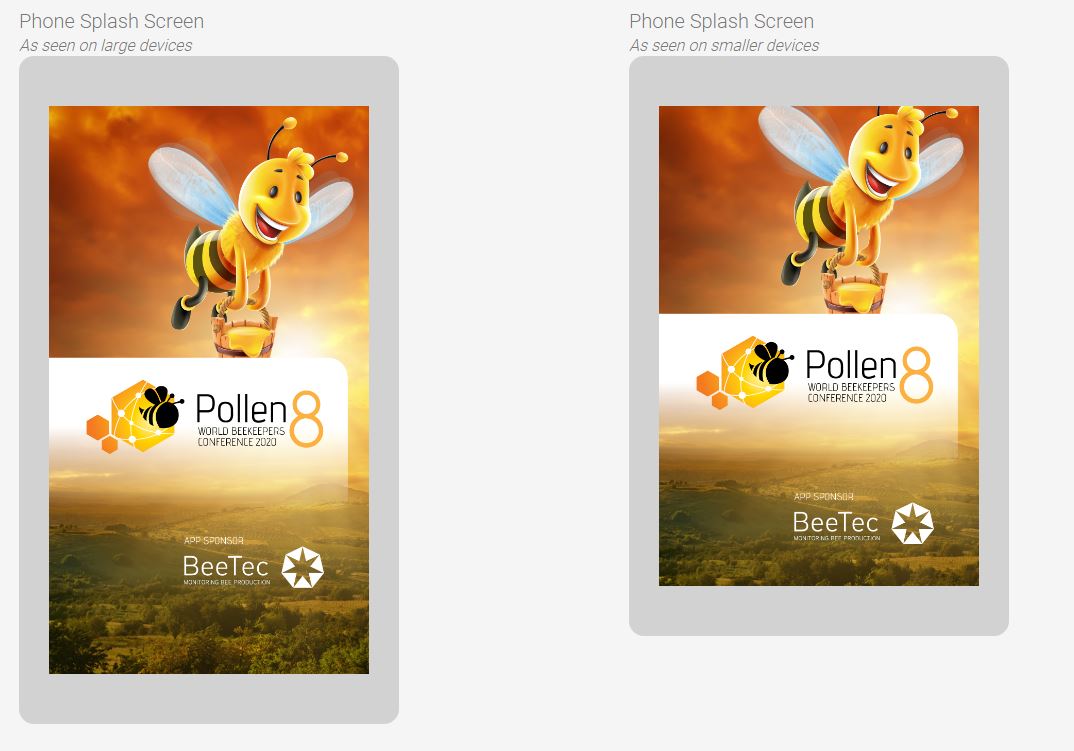 Tablet splash screen example
smaller screens will crop splash image from top and bottom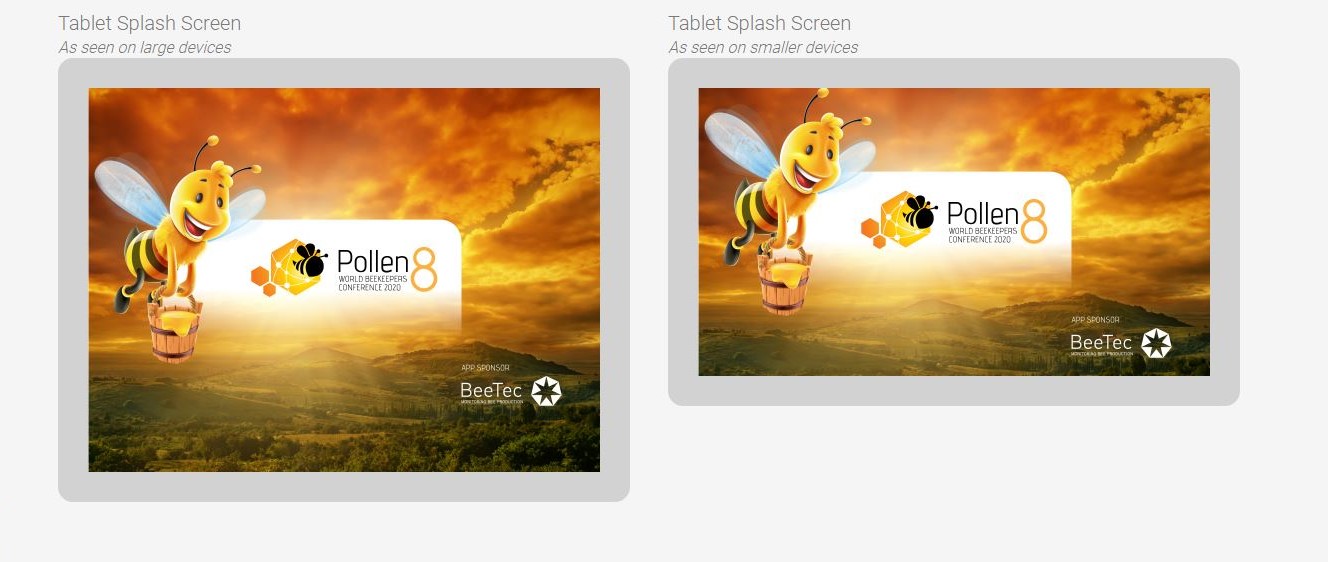 Additional Notes
Notes to the Entegy team, including any requests for specific screenshots.

Google Play Letter
It is strongly recommended that you download the Google Play letter template provided and add your letter header, insert all of your details in the outlined areas, sign the letter, save the letter as a PDF and re-upload to the store listing page. This provides proof to Google that Entegy has the rights to submit the app with your content to the Google Play Store.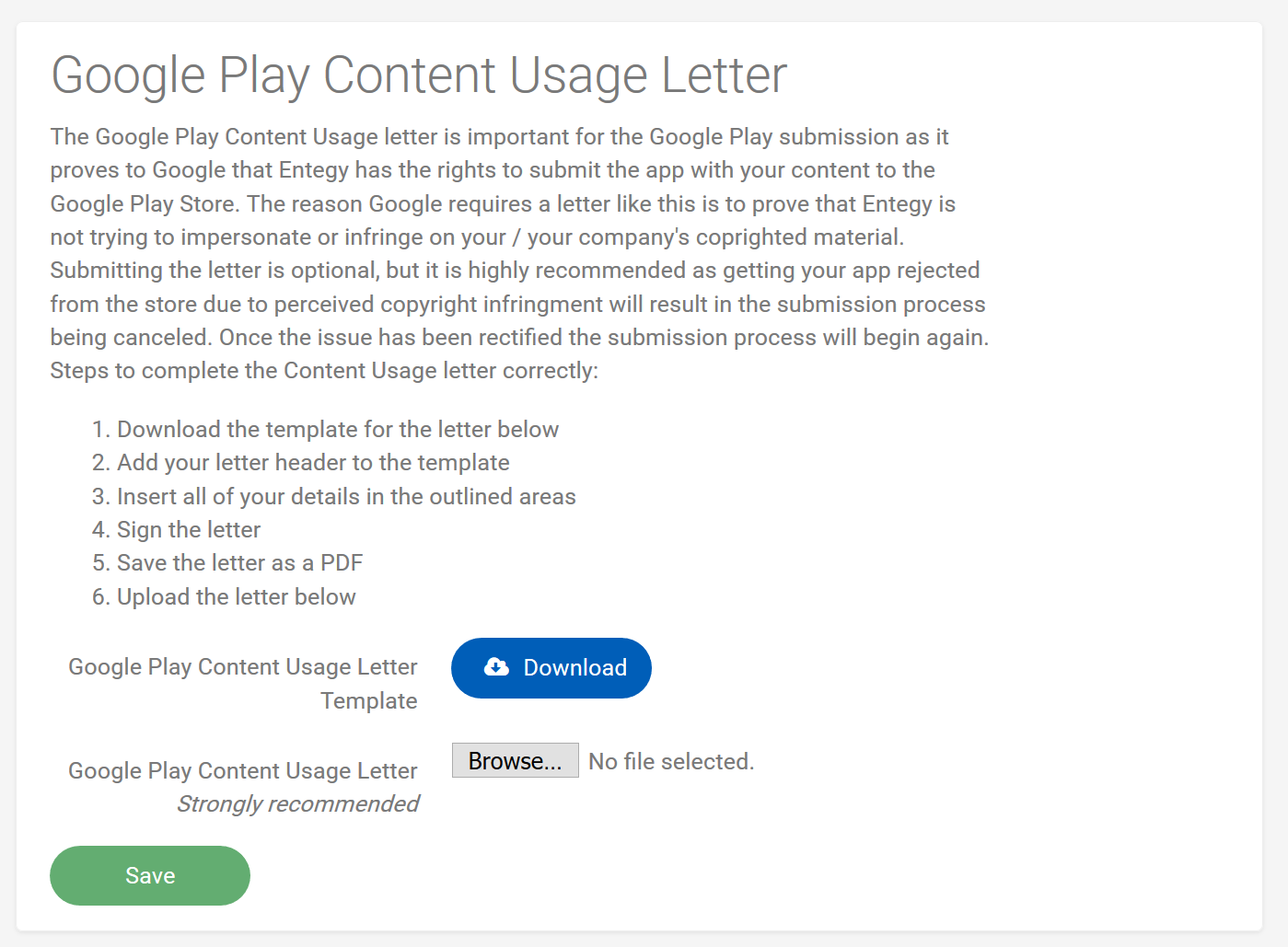 After filling in the details and images you can review how your app will look in the store. During the submission process it's important this content is accurate and current, not dummy content. Approval is final. Any changes to graphics, text or screenshots will require an app store resubmission which can take up to 12 business days and incurs the standard resubmission fee.
This proof on the review page is indicative only. Due to variations across devices; colours and text formatting may not display EXACTLY as they appear in this proof. Additionally, animations and navigation may be overlaid to these graphics as indicated below. If you have requested specific screenshots for inclusion in the store, these will be reviewed by Entegy and, should they not meet Google or Apple's store listing guidelines, will be substituted without notice.