App settings allow you to make additional customisations to your event app. Found under the App Element in the Core.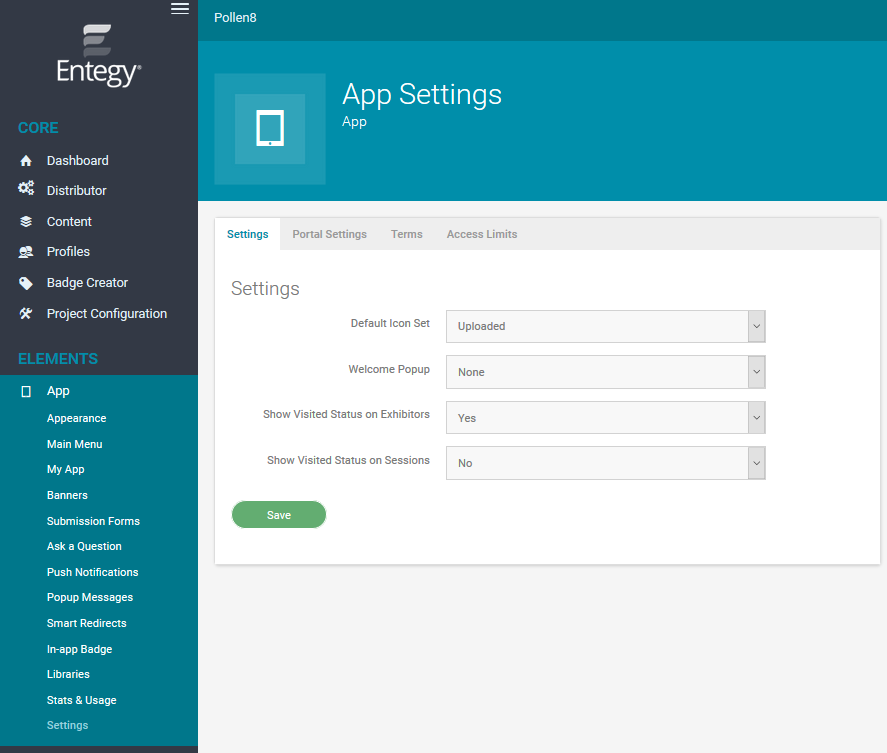 Default icon set: this setting lets you choose which style of icons to use for your App Main Menu. Uploaded - selects from your uploaded custom icons.
Welcome Pop up: If using Pop Up Messages, you can use this setting to enable a welcome pop up which appears on first login/ opening of the app.
Show Visited Status on Exhibitors: shows a green tick if app user has scanned in
Show Visited Status on Sessions: shows a green tick if app user has scanned in
Portal Settings Tab: for portal build apps only.
Terms tab: term settings allow you to specify the text displayed to app users. On viewing this tab you will see the default text. If you wish to change it, simply edit the field required and scroll to the bottom of the page to save.
Content buttons - these terms are used for a variety of content page
Leave Feedback: (Legacy) if using old schedule, this appears at the bottom of sessions
Ask a question: if this feature is enabled for a session, this will appear at the top of the session page
Send a message: when viewing other app users, this options will open private messaging between the users
Direct me: for directions page mapShow on map: for map and locations page points of interest
My Event page - also called My App, this is the page where app users can manage their bookmarks, settings and privacy.
Export notes: to email users notes to an email address
Bookmarks: app users bookmarks
Documents: app users saved documents
My Schedule to My Delegates: bookmarks of the corresponding pages
Account settings: users can view and manage their profile and privacy
Notification settings: users can opt in an out of notification categories
Log in and Out: click these options will either log the user in or out of the app
Password view: this page appears when user login is required
Enter access code: field were users need to enter their access code
Welcome to: message displayed to users. the event/project name will default display next to this message. e.g Welcome to EventName
Success: displayed upon successful login
Welcome: Displayed upon successful login, followed by default user name. e.g Welcome Name
Error: for incorrect login entry
Forgot your access code?: prompt to get forgotten access code
Dialog buttons: basic prompts displayed in app to assist user navigation
Action bar: these are options displayed on content pages
Bookmark: to bookmark a page
Notes: to add notes
Scanned: if user has scanned into session, exhibitor booth etc
Comment: if using activity feed, the comment option allows user to add a comment to the feed from a certain page
Feedback: if using feedback forms, allows users to access submission form from page
Show map: this option will display floorplan or map if added to a page
Filters: to sort sessions
All categories: to sort sessions
Search bar: if page search is enabled
Session terms: these are applicable to session pages
Copy: description of the session
Featured speaker: if the session has a featured speaker
Speakers: additional speakers
Abstracts: displayed if included in the session
Sessions: displayed when a session is linked to an abstract page type
Contact terms: these are applicable to page contact fields
Feedback: these are applicable to submission forms
Network: these are applicable to internet connection
Misc
No data: could be displayed if a link is broken
no results found: for search
Exit portal term: for portal app builds only
Session reminder message: if using interactive sessions, this message will display when an interactive session is about to start