This guide takes you through the process of setting up Attendance Tracking for a project in the Core.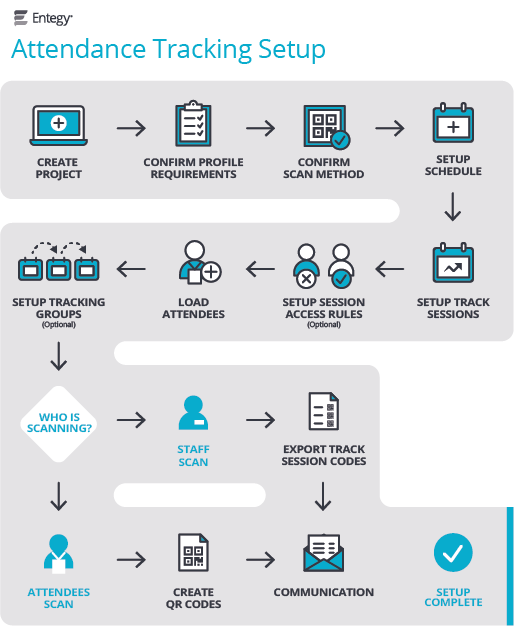 1) Create Your Project
Contact your Entegy Distributor
2) Confirm Profile Requirements
5) Setup Sessions in Track
6) Setup Session Access Rules (Optional)
You can create session rules to restrict attendee access to particular sessions based on attendee data.
7) Load Attendee Profiles
8) Setup Tracking Session Groups (Optional)
Automated scanning stations can be set up on a tablet device to enable attendees to scan themselves with the Track app. This avoids the need to have staff scanning attendees.
9) Who is Scanning?
There are several options for scanning attendees into sessions
Staff (or automated scanning stations) to Scan
Attendees to Scan
Print QR codes or upload image into presentation slides for scanning
10) Communication
Staff to scan - Communicate to staff how to use the Track app
Attendee to scan - Communicate to attendees how to scan
10) Setup Complete - Test