Table of contents:
FAQ: What do you intend to scan at your event?
A: It is important to confirm what you intend to scan at your event to ensure the Core is configured correctly for your badges / tickets / QR codes / Barcodes
Printed Entegy badges - Will you be scanning badges created in the Core with Badge Creator?
Badges with unique attendee QR codes can be designed in the Core and generated to be printed pre-event. Alternatively, these badges can be printed onsite through the Kiosk Manager element. By default, badges generated in the Core will use Entegy QR codes. Learn more about the Badge Creator here.
In-app badges - Will you be scanning in-app badges?
As part of the App element, an in-app badge containing their unique QR code can be added to the App Main Menu. The QR code on the in-app badge is the same as the QR included on the printed badge and can be used the same way the physical badge would. Learn more about in-app badges here.
Badges / Tickets from external registration systems - Will you be scanning a QR Code or Barcode on tickets or badges from an external system?
QR codes and barcodes from external systems are supported in the Core. Third-party registration systems can send out tickets containing essential event information and a unique QR code or barcode, that will be readable during the event.
Important
When working with external registration systems you will need to:
FAQ: What is the best way to use display rules with your layers for badges?
A: Each item on a badge is referred to as a layer. These layers can be moved to show in a certain order. Display Rules control layer visibility based on profile types and fields. To simplify badge design and generation, it is recommended to use display rules with your layers.
Best way to utilise display rules
Display rules can be created to either show or hide, or display different data or custom colours depending on profile information. When using kiosks, and printing badges in bulk pre-event, it is recommended to have one single flexible badge design that can accommodate design changes based on profile fields and types.
Common Badge Layers
PDF Background
If you are designing the base of your badge in an external program such as InDesign or Photoshop, it is best to export the design elements as a single PDF, and upload it as a PDF background. These PDF backgrounds might have slight changes based on attendee type, and can be set to show or hide to reflect this.
For example you may have a different PDF background for each profile type with different colours or design elements to set that profile type apart from the others. Each PDF background will need to be set up as a new layer and then set to show for the relevant profile type.
QR Code
QR Codes are common to have on badges, but if, for example you want to have staff badges without QR codes, these can be turned off for certain profile types or fields.
Name Field and Profile Type (text box)
The text field for first and last name will fill in automatically based on profile information. For blank badges that will not require a first or last name, this field can be set to hide.
For example, blank badges will still require a profile set up in the Core for a badge to print. The name for this profile can be removed as to not appear on the badge, but other information can be visible.
Profile Type is often displayed on the badges to differentiate groups of attendees. The profile type field will pull automatically from the type selected in the delegate's profile (not user selectable). This text cannot be changed to display differently on badges, but can be shown/hidden based on profile type/field.
Coloured Strip (if not part of background)
Coloured strips across the badge are commonly setup to help differentiate between attendee types. The colour of this strip can be set individually based on profile type or field, ensuring each profile type or field can have a unique colour, if required.
For example, your Exhibitor and Speaker badges have the same design, but you will need to easily differentiate between both groups on the day. Exhibitor badges may be blue, whereas Speaker badges are green.
FAQ: What are crop marks and bleed?
A: Crop Marks act as a guide for your printer so that they know where exactly to crop.
Bleed refers to the practice of extending a design slightly to ensure an accurate print job, which will be trimmed to ensure the design/artwork runs to the edge of the badge.
Crop marks and bleed both act as a guide for printers to accurately print to the appropriate size. The Badge Creator allows for both crop marks and bleed to be set when generating badges, however, their exact specifications will depend on your printer and the size of the stock you will be printing on.
FAQ: How to generate attendee QR codes within the Entegy Core for use in other systems?
A: Attendee QR codes can freely be generated via the Core for use in external badge creation tools. To do this, navigate to the Profile element and select Export Data and Reports. Simply toggle on the profile fields you require along with the QR code option. This will generate a formatted excel spreadsheet complete with each attendees QR code in a plain text format.
FAQ: What is butterfly badge stock?
A: Butterfly badge stock is a stock that has a perforated fold line in the centre of the stock and has a sticky back. When printed, the two halves of the badge are folded and stuck together to create a double-sided badge.
The butterfly stock is a different size to a standard A6, even when folded in half:
Butterfly stock - 97mm x 269mm is a portrait badge, which is slightly smaller than a standard A6 when folded.
Butterfly stock - 102mm x 164mm is a small landscape badge. When folded, it is roughly half a standard A6.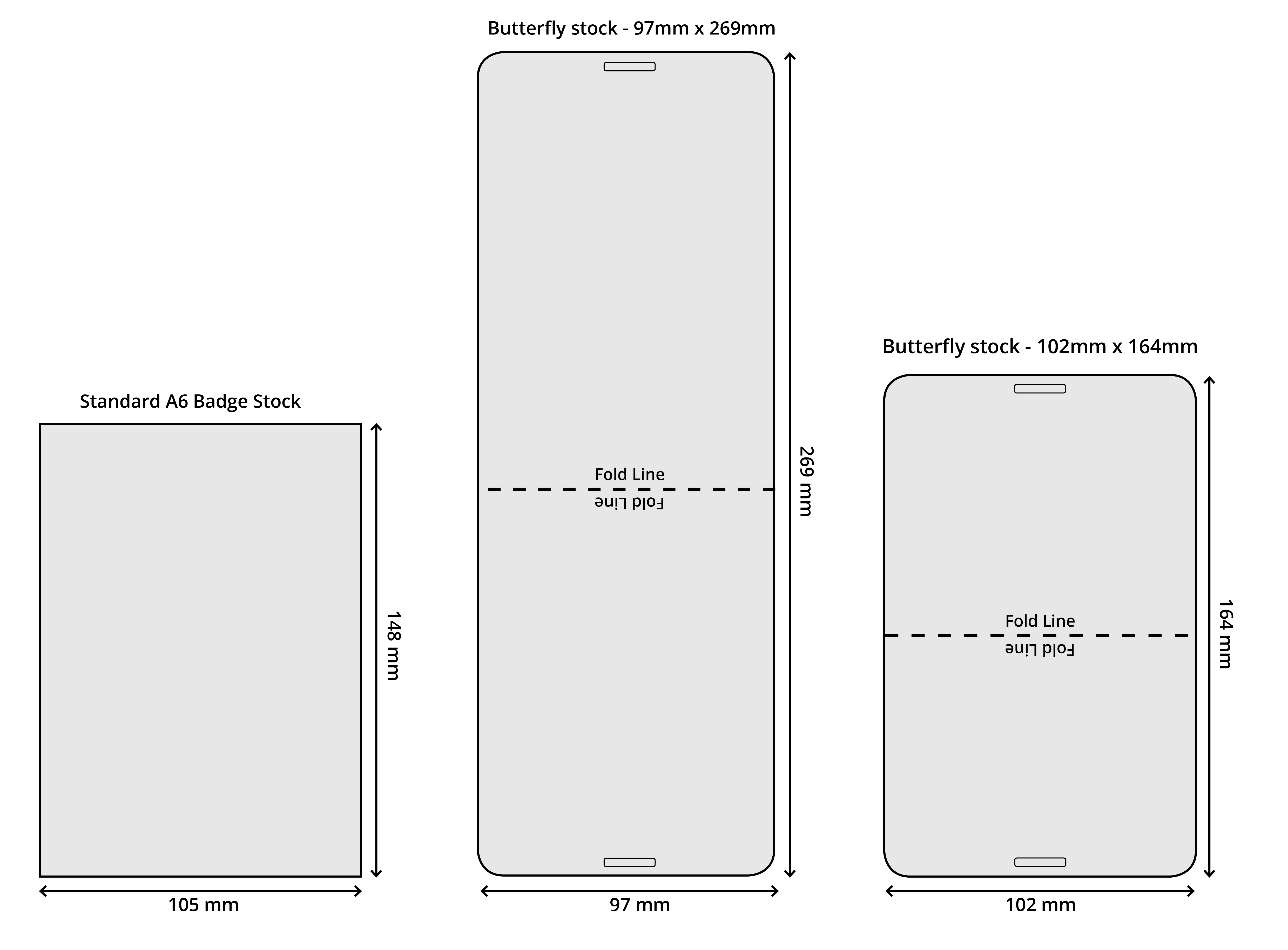 FAQ: What is the Dymo Address Label 99012 badge template?
A: This badge template can be used for badges to be printed using any Dymo label printer that supports the Dymo Address Label 99012.
This template is 85 mm x 36 mm, and is considerably smaller than a standard A6.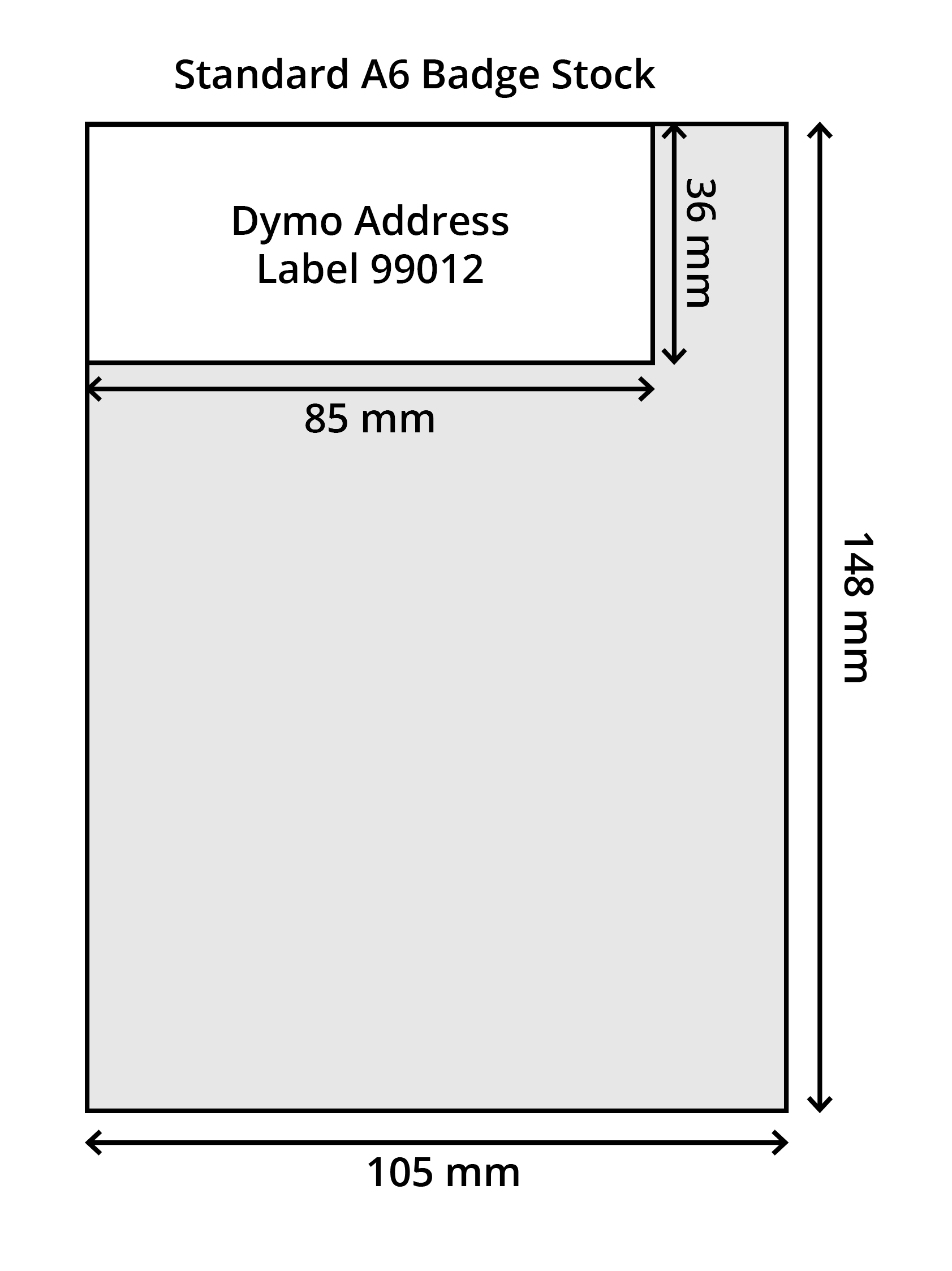 This label might be placed on a pre-printed A6 badge and contain First Name, Last Name and QR Code for onsite registrations.
FAQ: Why do numbers appear instead of text on my badge template?
A: The Field Key from the profile field is used as a placeholder on the badge template. When using an Eventbrite integration, a profile Field Key can sometimes be a number. This will not affect merged badges.
FAQ: How can I reprint a badge?
A: If using Entegy Kiosks, you can use the Kiosk Companion App to manually reprint a badge.
Badges can also be reprinted or downloaded as a pdf file from the Core profile
FAQ: What are fonts are available on my badge template?
A: There is a limited selection of fonts available in the Badge Template Builder. The feature does not support uploading custom fonts. The list may expand in future, but currently includes:
Aachen Bold
Arial
Arial Bold
Calibri
Calibri Bold
Cinzel
Cinzel Bold
Fauna One
Georgia
Georgia Bold
Georgia Bold Italic
Georgia Italic
Josefin Slab
Josefin Slab Bold
Montserrat Bold
Montserrat
Noto Sans
Noto Sans Bold
Noto Sans Bold Italic
Noto Sans Italic
OpenSans Bold
OpenSans Regular
OpenSans SemiBold
Oswald
Oswald Bold
Quicksand
Quicksand Bold
Signika Negative
Titillium Web
Verdana
Verdana Bold